Times of India
11 June 2011
By Kounteya Sinha
New Delhi, India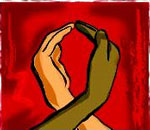 A global United Nations' summit on
AIDS
, attended by Union health minister Ghilam Nabi Azad, has set two major targets: eliminate new
HIV
infections among children and put 15 million
HIV
–infected on lifesaving anti retroviral treatment by 2015. World leaders, who have gathered in New York, launched on Friday a global plan to achieve both these targets apart from keeping
HIV
positive mothers alive.
A child is born with
HIV
nearly every minute. Hence, preventing new
HIV
infections among children is a major target.
If pregnant women living with HIV are put on anti retroviral treatment, it reduces the risk of a child being born with the virus to less than 5%, and also helps keep their mothers alive to raise them.
"We believe that children everywhere can be born free of HIV by 2015. Their mothers can also remain healthy," said Michel Sidibi, executive director of UNAIDS, adding that"This new global plan is realistic. It is driven by the most affected countries."
In answering the Global Plan's call to action, the United States President's Emergency Plan for
AIDS
Relief (PEPFAR) announced an additional $75 million to prevent mother–to–child transmission of HIV. The Bill and Melinda Gates Foundation pledged $40million, Chevron committed $20million and Johnson & Johnson promised $15million.
In 2009, approximately 370, 000 children were born with HIV almost all of them in low and middle–income countries. Under the Global Plan, the goal would be to reduce this figure by 90% in another four years.
All 22 countries, which have the highest burden of new HIV infections among children, have contributed to the development of the plan, and signed up to implement it.
The key elements of the Global Plan include ensuring that all pregnant women have access to quality lifesaving HIV prevention and treatment services for themselves and their children, HIV, maternal health, newborn and child health and family planning programmes work together and deliver quality results.
On the other hand, fresh scientific evidence shows that treatment is also a form of prevention, as it reduces the risk of transmission of HIV from one person to another by 96%.
Twelve million infections and more than seven million deaths can be averted by 2020. New infections too could be reduced by more than half by 2015, which will require an additional $6 billion each year until 2015.
"By agreeing to expand HIV treatment to 15 million people in four years, governments are committing to take the latest science that treatment is prevention, and turn it into policies that save lives and can stop the virus," said Sharonann Lynch, HIV/
AIDS
policy adviser.