Times of India
11 June 2011
By Manu Aiyappa
Bangalore, India
State Buys Up Emergency Stock; Consumers Exposed To HIV/AIDS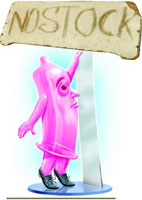 An acute shortage of free condoms is driving people in remote hamlets to wash and reuse the available varieties, and in the bargain, expose themselves to health problems. This scarcity could lead many users to indulge in unprotected sex, and even contract
HIV
/
AIDS
and other sexually transmitted diseases.
To battle this situation, Karnataka has placed an emergency order for 5 lakh condoms. Currently rated third among high
HIV
/
AIDS
prevalence states in the country, the state is buying Nirodh, the free variety, not only to replenish its dwindling stocks, but to keep up its momentum in fighting the deadly disease.
"
Condom
scarcity is reportedly forcing sex workers to buy packets of branded condoms for Rs 10–12 each. They are used, then washed and dried and offered to gullible clients to be reused," said D Shankarappa Gonwal, working for an NGO in Koppal district.
Belgaum–based Mahesh Foundation, a voluntary organization working for the welfare of homeless children and people living with
HIV
/
AIDS
, said there has been no supply of free condoms for the past 10 months in the state. People who hesitate to buy from medical stores and those who don't have the money to buy are the ones largely hit, he added. "We fear that rural people may soon start having unprotected sex and expose themselves to
HIV
," he added.
Karnataka's population, which recently reached 6.1 crore, saw its
Condom
demand shoot to 15 lakh a month from 6–8 lakh a decade ago. Condoms remain the most popular and cheapest means to check disease, HIV and unwanted pregnancies in rural areas. To address this concern, distribution points were set up at bus stands, railway stations and places where commercial sex workers dwell. Condoms were also being distributed through organizations engaged in spreading awareness on HIV/
AIDS
and through primary health centres and sub–centres.
Health officials said that another reason for shortage of 'Nirodh' condoms is that they are illegally diverted from government supply lines, given a glossy pack and sold as a new brand. This is leaving the government's official manufacturers (Hindustan Latex) in a quandary.
Karnataka State AIDS Prevention Society (KSAPS), which also distributes free condoms along with the state health department and social marketing network, maintained that it has already brought the situation under control with an emergency order of 5 lakh condoms. Dr M P Muralidhar, KSAPS's
Condom
promotion manager, said the present crisis arose following a legal tangle between the Union health and family planning ministry and some private
Condom
manufactures.
Meet on Shortage
Health and family welfare minister B Sriramulu said they have been taking steps to prevent shortage of condoms and he will soon hold a meeting of senior officials in Bangalore to address the problem once for all.
High Demand, no Supply
No supply of free condoms for past 10 months in Karnataka
Demand up from 6–8 lakh a decade ago to 15 lakh a month
Free condoms diverted, repacked as new brand
Karnataka places emergency order for 5 lakh condoms